» Landana RED PESTO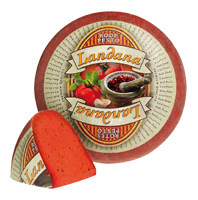 Summery blend with sun-ripened tomatoes, oregano and garlic.
Sun-ripened tomato and a summery red color help Landana RED PESTO stand out from the crowd. What's more, by adding oregano and a hint of garlic it is a delicious Gouda style cheese that offers various possibilities in cold and warm dishes.
Lactose (<0,1g/100g) and gluten free. Contains animal rennet.



Nutritional values per 100 g
energy
1578 kJ / 381 kcal
carbohydrate
0,1 g (<0,1 g)