» WILD GARLIC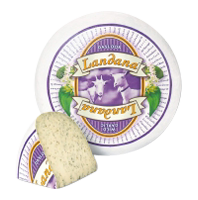 A striking combination of flavors.
Wild garlic is an herb with healing properties and a unique flavor. Wild garlic gives this cheese a pleasant taste of garlic, without the less appealing garlic odor. A welcome variation on the cheese platter.
Lactose (<0,1g/100g) and gluten free. Contains vegetarian rennet.


Nutritional values per 100 g
energy
1617 kJ / 390 kcal
carbohydrate
0,1 g (<0,1 g)