» Landana FENUGREEK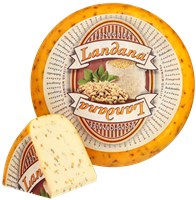 Landana with fenugreek now also in a delicious Dutch cow's milk version!
Fenugreek is an annual herb with delicate pods packed with light-brown seeds. The fenugreek seeds have a magnificent, nutty flavor. This Landana cheese with fenugreek is uniquely delicious!
Lactose (<0,1g/100g) and gluten free. Contains vegetarian rennet.



Nutritional values per 100 g
energy
1579 kJ / 381 kcal
carbohydrate
0,1 g (<0,1 g)