» HONEY & THYME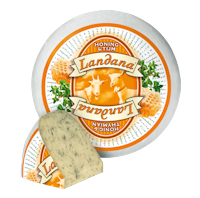 A sweet and spicy goat cheese.
Incredible harmony arises when sweet honey meets thyme in this flavored goat cheese made of 100% pure, Dutch goat milk! Landana Goat cheese HONEY & THYME is a delicious mild goat cheese with a sweet and herby taste palette.
Lactose (<0,1g/100g) and gluten free. Contains animal rennet.



Nutritional values per 100 g
energy
1555 kJ / 375 kcal
carbohydrate
0,1 g (< 0,1 g)