» Landana HOT PEPPER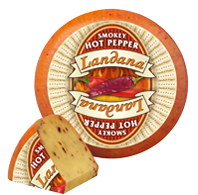 This Dutch cheese with smoked jalapeño peppers surprises with a slightly smoky, sweet and spicy flavor.

Enjoy Landana HOT PEPPER at your quesadillas, burritos or tacos for a delicious Mexican experience. Also perfect to pair with Sauvignon Blanc and a sparkling Rosé.

Landana HOT PEPPER is a spicy cheese, made of cow's milk, aged for a minimum of 6 weeks and free of gluten and lactose (<0,1g lactose per 100g).






Nutritional values per 100 g
energy
1672 kJ / 403 kcal