» Landana Jersey Gouda MILD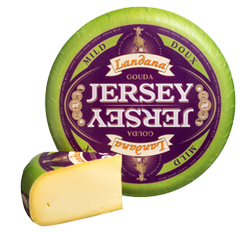 Creamy & rich flavor
Landana Jersey Gouda is made from pure milk from Jersey cows. The milk from these friendly cows is really something special. Jersey milk is naturally rich in protein. The full milk is not standardized and this gives the cheese a full, rich flavor. Landana Jersey Gouda is 100% natural, without any artificial colorings, flavorings and preservatives.
Landana Holland Jersey Gouda MILD has a mild, full creamy taste and is naturally ripened on wooden shelves for approx. 8-10 weeks. 
For more information about Landana Jersey MILD click here.






Nutritional values per 100 g
energy
1627 kJ / 393 kcal
carbohydrate
0,1 g (<0,1 g)