» Landana Jersey Gouda OLD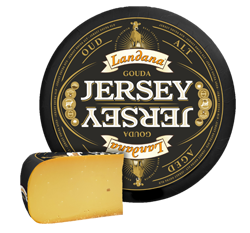 rich, extra mature & creamy flavor
Landana Jersey OLD has a rich, fully matures and tangy flavor. The cheese is ripened for at least one year on wooden shelves according to Dutch cheese makers' tradition.

Landana Jersey OLD is made from full Dutch Jersey milk, prepared according to a traditional cheese maker's formula, and traditionally matured for at least one year on wooden shelves. This provides a rich, fully matured and tangy flavor, with fine crystals in the cheese as a sign of its long maturation. Jersey OLD is naturally free of artificial colorings and flavorings, and contains no preservatives. It's also suitable for vegetarians and is naturally low in lactose due to maturation (lactose <0.1 g/100 g).
Read more at the Landana Jersey Gouda website.







Nutritional values per 100 g
energy
1823 kJ / 440 kcal