» Landana Goat Cheese ROSEMARY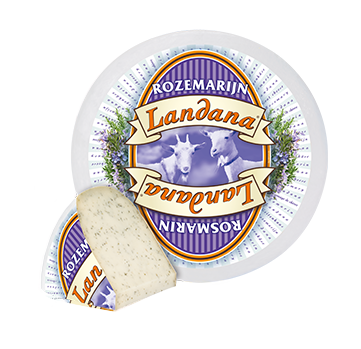 A surprisingly fresh taste with delicious rosemary.
This tasty goat cheese is made from the best Dutch goat milk! Landana goat cheese ROSEMARY fits perfectly within the spring season: surprisingly fresh taste and delicious rosemary. This makes the cheese ideal for bread, salads or with a good glass of white wine. The ROSEMARY goat cheese has developed its fresh taste in 4 to 6 weeks and is traditionally produced and matures naturally in the cheese warehouse on untreated wooden shelves.
Based on 100% Dutch goat's milk.

Matured naturally on wooden shelves for at least 4 weeks.

Mild, creamy and fresh goat cheese.

Very suitable for people with a cow's milk allergy.

Free of artificial colors and flavors and contains no preservatives.

Naturally free from gluten and low in lactose (<0.1g / 100g) and suitable for vegetarians.





Nutritional values per 100 g
energy
1511 kJ / 365 kcal